Do you want to know the tricks of YouTube video download? But don't know what to do? Hey, guys don't worry I'm here to clear you all the queries. You just need to read this article for step-by-step guides. Let's go on.
Observing the present social studies, YouTube is the best online video streaming platform. There are few people who don't love to watch videos on YouTube. But almost every internet user accesses YouTube for watching videos. Kids and adults are very fond of watching videos here.
In this post, we clarify the most asked question, how to YouTube video download. And here I try my best to solve this riddle. Now YouTube has a feature for users that allow users to watch videos offline. There are also other options available. So if you are eager to know, you must read this article.
Continue to read this vast information which contains brief details of YouTube video download. Readers can unfold the best YouTube video downloader online that allows users to save any videos on their devices.
Being a vast collector, video streaming YouTube has some user-friendly features but there is no option to directly download videos and save them in an SD card. From this tutorial, you will know how to download YouTube videos, and MP3s.
Simple Tricks for YouTube Video Download in Your Device:
Avoiding complex paths you will easily download YouTube videos just following some points. With these tips, you will know how to download YouTube videos on Android devices, and other devices.
YouTube Video Download with Official Apps:
Follow simple steps to download YouTube videos from official iOS or Android apps.
YouTube Premium:
You must hear about the YouTube premium subscription plan which is $11.99 per month. With YouTube paid subscription you can easily download YouTube videos from the official YouTube app.
Though there are trials available that give you only the save video option. Let's know the YouTube videos download process:
Open your YouTube app and click on any video you want to download for offline later.
When you open the video you will see the "Download" button. Tap on the button for automatically downloading.
Also, you can start downloading videos from the subscription page, homepage, and search page by clicking the "Three Dot" icon.
If you want to watch a video, then just go to the Library Menu and open the Download folder.
With these tips, you can download any YouTube videos of any quality. But for these processes, you need to have a good internet connection.
YouTube Video Download with Third-Party Apps:
There are so many third-party tools available online that help to download your favorite YouTube videos on your device. These tools work or are supported on any Android and iOS device.
With these tools, you can download YouTube videos and save them on your SD card. Watch later the video on MX Player, VLC, PLAYit, etc. as well as share it with friends.
Now have a look at third-party apps for YouTube video download-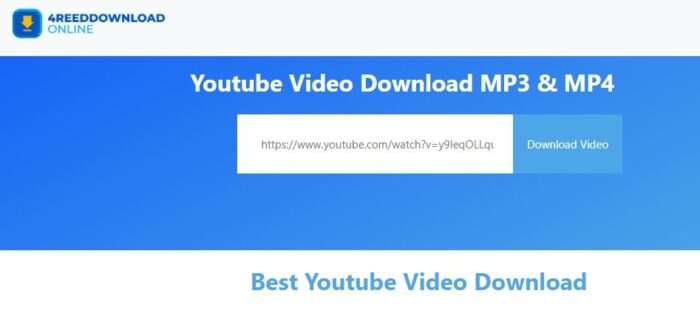 4reedownloaderonline provides easy-to-use and Ultrafast YouTube 4k download. The tool provides you with multiple formats to download YouTube videos. Our YouTube to mp4 converter has over 5 to 10 qualities for you to download from. 4k YouTube (1080P) videos are the best quality videos. Other YouTube download qualities options available are 144p, 240p, 360p, 480p, 720p and 1080p (highest quality video). YouTube mp3 download also includes only the audio in mp3 formats.
Some save from YouTube options available would be without audio, in case you need only the video without the audio for content creation. Downloading videos from YouTube is fully safe and legal. Some videos will have copyrights, in that case downloading is still safe but we would not recommend uploading them as it is without getting proper permissions.
2. VidMate:
VidMate is an app that is mainly used to download HD videos. It is also an mp3 downloader and converter app. VidMate is considered to be one of the best apps when it comes to downloading YouTube videos. 
Usually, platforms like YouTube do not allow us to download videos or audio on our devices. And thus, VidMate External comes in popularity, as it allows you to download videos and even convert them into mp3. 
VidMate has become the ultimate choice of people, and it supports more than a thousand websites. Moreover, this app is totally safe to use. Though it is not accessible on the play store, you can get this app on a web browser.
So, download this app today from https://www.vidmate-official.com/, and start downloading and converting your favorite music and videos.
While we talk about the best YouTube video downloader then the first name that comes to our mind is savefrom.net. With extraordinary features this tool allows users to download, and convert their favorite YouTube to mp3. Let's know how to download YouTube videos from SaveFrom.Net:
Savefrom.net is supported on pc, laptops, iOS, and Android devices. You need to follow these steps for savefromnet download YouTube video-
First, open the SaveFrom.net website, and in another tab, you need to open YouTube. There you should click on your favorite video that you want to download.
Now in the second step, you should copy the YouTube video URL and back to the SaveFrom page.
After that paste the URL and tap the download processing button. Meanwhile, you can select your video quality format.
4. SSYouTube:
SSYouTube is the best alternate site of savefrom net and one of the best tools for YouTube video downloads. You don't need to follow complex ways to download YouTube videos mp3 through the SSYouTube tool. I have another article written about the SSYouTube tool; there you may visit to know how to download video YouTube HD through SSYouTube.
From any social site users can download YouTube videos from the Ymate tool. This tool makes your YouTube video audio download process very simple and easy. Know here how Ymate helps users with YouTube video download; step-by-step guide:
First, copy your favorite video URL from YouTube and open Ymate to paste the URL.
Select the format you want to download and click for download.
6. Y2mate:
Y2mate is one of the best tools for YouTube video download. This tool has some great features and it allows users to convert the videos as well. It supports various formats and helps users to download videos without spending money. Follow the guides:
Open the YouTube app and search there your favorite video that you want to download.
Next, open the Y2mate website or app and paste the URL directly.
Click the "Start" Button for downloading.
You can also convert the video if you want.
The Bottom Line:
I hope after the end of reading this article, you understand the whole process of YouTube video downloading.  We posted many articles on YouTube videos, audio, and the conversion process.
You may love to read our articles on YouTube converter MP4, YouTube to MP3 converter, YouTube Downloader, YouTube audio downloader, YouTube to MP4 HD etc.
If you have any doubt still now you can ask us any questions in the comment section. We will try to give a proper answer.
FAQs:
How to Download YouTube Videos Online?
In this post, we briefly describe the answer to the question of how to download YouTube videos online. The primary process of YouTube videos downloading is to copy the YouTube link URL and paste it into third-party tools.
If you go for the official YouTube app then you will find an offline downloading option.
Is it legal to download videos from YouTube through third-party tools?
If we want to know the answer to the question "is it legal to download videos from YouTube through third-party apps or tools then we can say no ". According to YouTube guidelines "the published videos on YouTube are only for streaming", they do not mention that users can download them offline. As YouTube content creators make money through YouTube AdSense.
Can I share downloaded YouTube videos?
Using third-party apps you can only share the files with anyone. With YouTube's official app, sharing YouTube videos with friends is not possible. You need to use unofficial apps and then download videos through them and share them with anyone using file-sharing apps.
What formats can I select for YouTube video download?
Many more video formats are available on YouTube. Select any of them whatever you like. But most people love to download videos in HD resolution. There are 13 types of video formats available in youtube WMV, MP4, MPEG4, MOV, FLV, AVI, HEVC, MPEGPS, 3GPP, DNxHR, CineForm, WebM, and ProRes. From these formats, MP4 is quite popular as it works on most devices. The 3GP format is low quality, and those who have small-screened mobile phones can use this format. 
What are the best YouTube video download apps for iPhone?
Well. iPhone does not allow any third-party tools for downloading YouTube videos. Users can open the websites to download YouTube videos.
Is there any YouTube video download extension for Chrome?
No, they do not have any YouTube video download extension for Chrome. Google doesn't allow any video download extension.